Wedding Ceremonies with Rev. Laurie Sue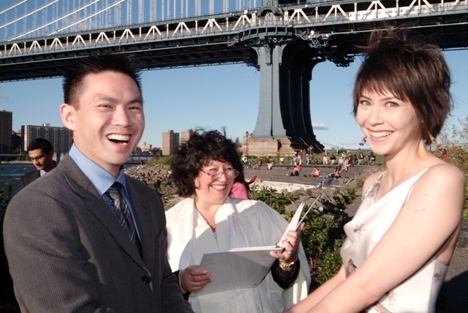 It's your special day and it should go your way. Rev. Laurie Sue works with you to create a ceremony that is perfect and personal for you. Every marriage is unique, so should the ceremony that is to be the foundation of your married life together.
Your wedding ceremony is one of the most sacred events of your lifetime! Wouldn't you like it to be a personal and memorable expression of your love for one another?

Rev. Laurie Sue Brockway is a versatile and flexible officiant who specializes in creative and loving wedding ceremonies. She is honored to regularly assist couples in designing the ceremony of their dreams.She can craft wedding ceremonies that include elements of any religion or spiritual practice -- Jewish, Christian, Buddhist, Hindu, Sufi, Native American, African, Hawaiian and Earth-based, for example.
She is able to blend spiritual traditions in a way that is personally meaningful to each couple and their families.She also crafts and officiates ceremonies that are non-religious, yet very personal and romantic.

Regardless of the kind of ceremony, Rev. Laurie Sue will craft a ceremony to truly reflect the values of the people who are getting married. Sometimes this includes coaching the couple on writing their own vows, or providing the perfect words for them to express on their wedding day.The couple always approves the wedding script before the big day so they can relax in knowing exactly how it will go.

Rev. Laurie Sue is a loving, warm and nonjudgmental guide who gently steers couples toward finding all the right words, readings and elements for their ceremony. She is called upon by couples of all backgrounds and faiths, as well as the unaffiliated, to make the wedding day special and memorable.
She is available to officiate in partnership with other clergy, and also co-officiates weddings with her own beloved, Rev. Vic Fuhrman.

She also specializes in coaching brides throughout their wedding experience.